Die Punching Machine – Technical Specification
MAXIMA HS 1020
Maximum Sheet Size
712 mm x 1016 mm (28″x40″)
Minimum Sheet Size
355 mm x 406 mm (14″ x 16″)
Maximum Die Cutting Area
700 mm x 1010 mm (27.5″ x 39.7″)
Maximum Pressure (N)
250 Ton
Height of Cutting Rules
23.8 mm
Minimum Gripper Margin
9 mm
Maximum Machine Speed
7500 sheet/Hour
Sheet Thickness Paper & Board
0.1 mm – 1.5 mm
Sheet Thickness Corrugated Board
Max. 4 mm
Feeding Pile Height
1350 mm
Delivery Pile Height
1050 mm
Total Power
17 KW (23 HP)
Size of Machine
L 5.9 mtr x W 2.7 mtr x H 2.2 mtr
L 19.3 x W 8.9 x H 7.2′
Size of Machine (Incl. Platform)
L 5.9 mtr x W 3.7 mtr x H 2.2 mtr
L 19.3′ x W 12.1′ x H 7.2′
Weight of Machine Approx.
14500 Kg
Specifications and features are subject to change without prior notice.
Diecutting Section
Pneumatic chase locking system for perfect positioning and rigid locking.

Cutting chase turn over device for quick change over operation.

Safety clutch of main chain drive emergently stops the machine when an overload occurs due to machine or operator fault.

Pneumatic clutch and Brake with high torque and precision.

Rigid toggle design for smoother working at maximum die cutting pressure.

Improved gripper bar lock system for accurate paper registration.

Automatic Centralized Lubrication system and main drive chain lubricating system.

Computerized control Touch screen display system for immediate tracing and visual machine status and possible machine stop causes.

Gripper bars made of light weight and durable aluminum alloy ensures accurate paper registrations.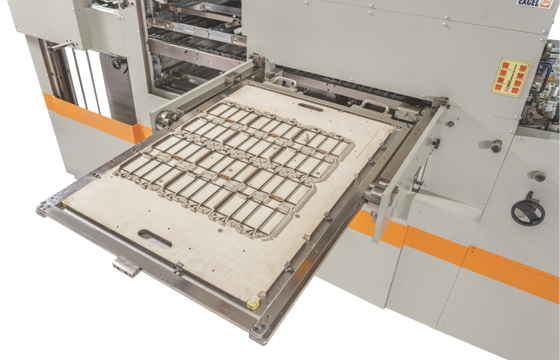 STRIPPING SECTION *
Triple action stripping (Upper, Middle and bottom)

Change over time minimized by using same registration system in die cutting and stripping.

Stripping tools on upper and lower frames can be mounted easily.

Waste pieces between the blanks are stripped securely.
FEEDER
Special designed feeder for high speed and accurate feeding

Adjustable advance and retard of feeder timing.

Safety photo electric device prevent over-ascending and over¬descending of paper pile.

Suction unit with multiple adjustments and fully adjustable suction cups.

Electronically controlled micro adjustment for up and down pile table.

Non-Stop device for feeder station can ensure continuous production.

Pre-Loading attachment.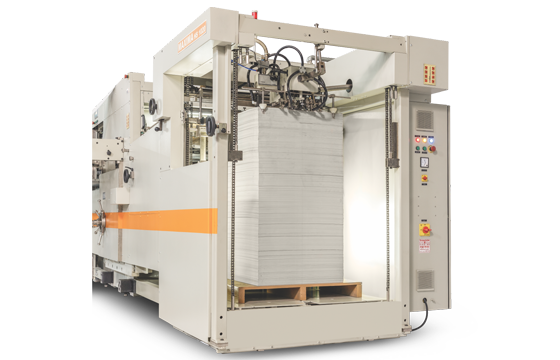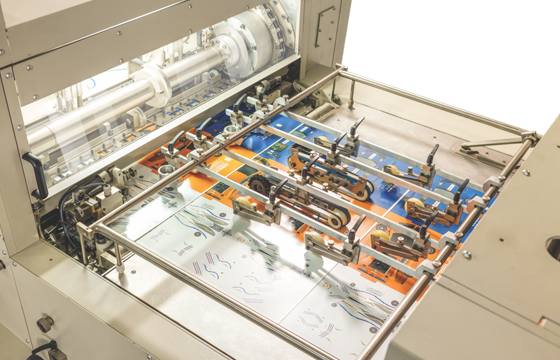 FEED TABLE
Front lays and side lays with Micro adjustment for accurate paper positioning being effected from outside the machine, even while the machine runs.

The Pull-Push side Lay specially designed for thin, thick and corrugated paper sheets can be changed over from pulling to pushing easily.

The Speed of feeding belt can be adjusted easily.
Pull and Push side lays are on both sides of the feed table.

Front lay & Side Lay register is controlled by photo sensors.
DELIVERY SECTION
Safety photo electric device prevent over-ascending and over-descending of paper file.

Non-Stop grill attachment for delivery station can ensure continues production.

Adjustable brush helps perfect releasing of paper from grippers to achieve high quality stacking.

Side and front joggers are adjustable to the sheet size to set every sheet in to perfect position.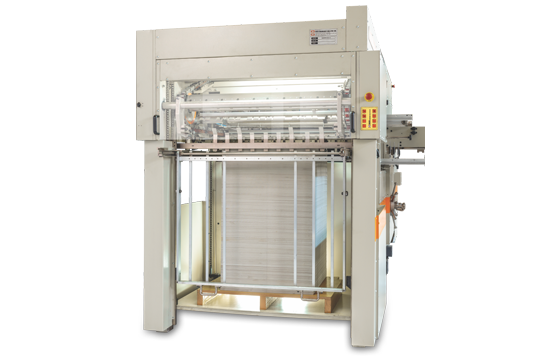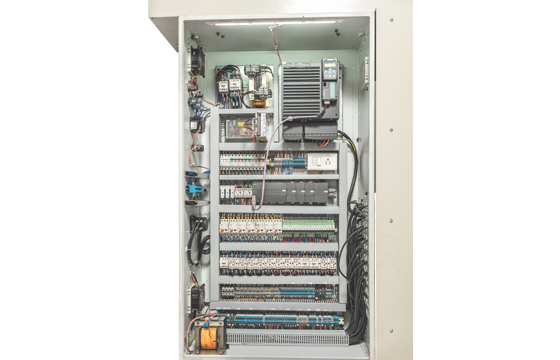 CONTROL PANEL
All Components are branded and CE marked.

All key parameters visible on HMI.

Siemens Automation based die cutting machine.

Reliable Automation system with minimum down time, faster in execution, highly precious.

Most reliable variable Frequency drive unit of Siemens used for Main motor operation.

Control Panel & automation system is design in such a way that diagnostics & trouble shooting of field problems, Operational matters & field maintenance reminders are easy & user friendly.
* Optional On Request